Places can be booked online through eventbrite:
https://www.eventbrite.co.uk/o/long-eaton-art-room-34359477431
More details are on our facebook page on the events tab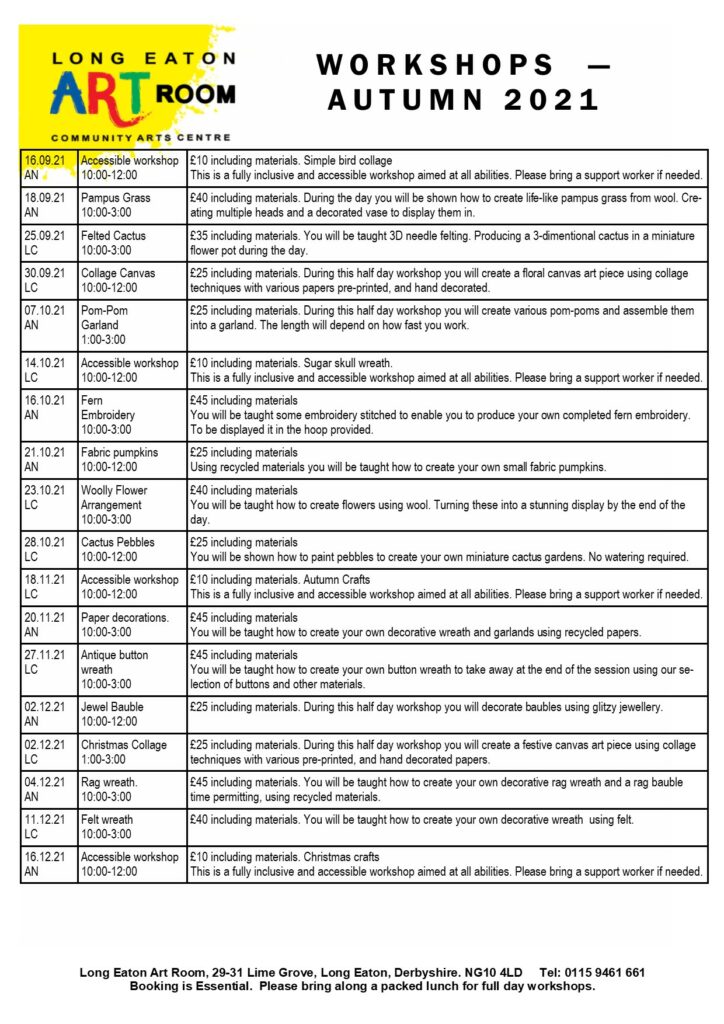 COVID SAFE at Long Eaton Art Room
The studio will have been thoroughly cleaned before each workshop with high contact surfaces cleaned regularly.
The number of students has been lowered to enable everyone to have a large working area with plenty of social distance.
At each table/work station there will be a set of basic materials/tools needed i.e. scissors, needles etc. These will have been sanitised before the start of the session.
We ask that if we gather as a group to listen & watch demonstrations everyone will wear a face mask or visor (provided if needed) these will not be necessary while at your own workstation.
Any shared equipment for instance sewing machines, heat guns etc will be wiped between use.
There will be facilities for making hot drinks but in the current climate if possible please bring your own refreshments or drinking vessels.
There will be plenty of soap and sanitiser gel dotted around the studio.
There are cleaning wipes in the toilets, please do not flush those, use the bins provided.
Although we endeavour to ensure your safety, the decision & risk to attend a workshop is left with the participant.
All bookings are subject to our workshop booking terms and conditions:
WORKSHOP BOOKING TERMS & CONDITIONS
· All workshops require full payment in advance to confirm your place.
· Booking Terms
In the event of a cancellation payments are non refundable, in exceptional circumstances credit may be given to be used for future workshops.
In the unlikely event we have to cancel or postpone a workshop due to unavoidable circumstances or if we are unable to meet the minimum number of participants needed to run the workshop, we will endeavour to give our guests as much notice as possible. We will happily refund the full booking fee or transfer your booking to another workshop of the same price, space permitting. However, we cannot accept responsibility for any other costs, expenses or disappointment.
· Items made at our workshops are intended for personal use only and not for commercial use.
Long Eaton Art Room take all reasonable precautions to ensure the Health & Safety of its customers. It is important that students and other visitors are aware of others and their safety. Long Eaton Art Room cannot be held responsible for injury, loss or damage to you or your personal possessions. Vehicles are parked at owners risk. Long Eaton Art Room cannot be held liable for any accident or injury incurred whilst visiting the premises.