We now run a wide variety of workshops ourselves taught by Lindsey and Angela, Places on these can be booked online through eventbrite, details below.
We also have a range of artists who hire the space and run workshops and courses here on site too, the reguar sessions are details below, places must be booked direct through the visiting artist for those. Details are given below.
We have low threshold double doors into our teaching spaces. They are large, bright and well heated rooms. We have accessible toilet facilities and a free carpark.
Long Eaton Art Room Run Workshops
More details are on our facebook page on the events tab
Places can be booked online through eventbrite; Click on buy tickets: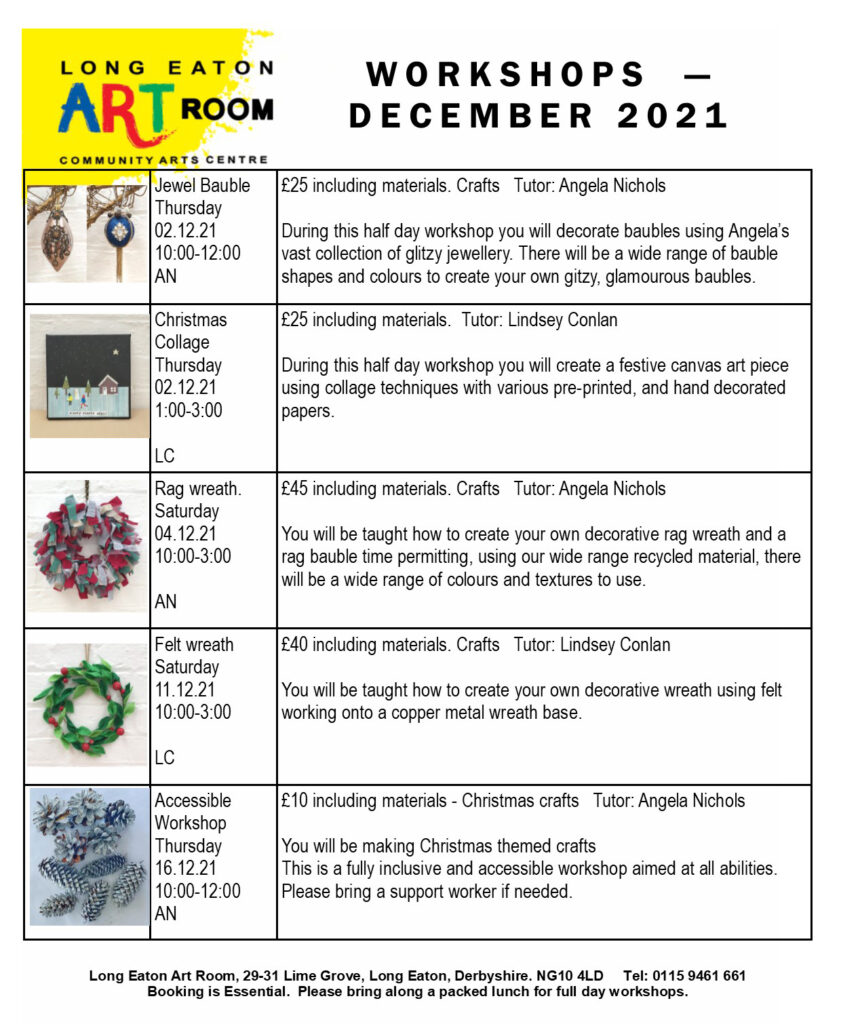 Artist Run Workshops
Ceramics Classes have restarted again, held on Monday evenings 7pm-9pm at £20 per person. All materials and tuition provided by David William Sampson.  During Covid times we are limiting places so booking is essential. Please note these sessions are organised externally, please Contact David Sampson to Book you places .
 ————————————————
Woolly Wednesdays We are really pleased to let you all know that Woolly Wednesday sessions restart this week Wednesday 6th October 2021. Every Wednesday Mary Graham will be running our Woolly Wednesday slots. 6.30-8.30pm
No need to book, just turn up and join in. Bring your current knitting/crochet/textile project and spend some time with us in a relaxed friendly atmosphere.
Just £3/person
These are not taught sessions, but the group is very knowledgeable and happy to help you get started or move along with your projects. Everyone welcome from beginners to experienced. Mary is exceptionally knowledgeable about crochet and many textiles, she is also a very skilled spinner too and a patient tutor.
Sessions are £3, every Wednesday (unless Mary is on holiday) 6.30-8.30 pm
 ————————————————
Life Drawing Classes have restarted again, held on Thursday evenings twice a month (first and third Thursdays each month) 7pm-9pm. These are friendly untutored sessions at £10 per person. A model will be provided each session. Bring your own paper and pencils/drawing materials. We have easels available if anyone prefers to work on an easel.  Limited places so booking is essential. Please note these sessions are organised externally, please visit https://longeatonlifedrawing.wordpress.com/ and use the contact form on their website be added to the separate life drawing mailing list.
 ————————————————
Lino Printing Classes by Minifi are running regularly throughout the year. More information can be found on Minifi's website. Places are limited and must be booked directly through her. https://minifis-oddities.myshopify.com/
————————————————
Watercolour classes with Lynda Mayfield
Local artist Lynda Mayfield is starting her monthly watercolour classes again aimed at those with some previous watercolour experience, 2nd October and 6th November 10-2pm . Please contact her direct for more details and booking information on: lyndamayfield@virginmedia.com
————————————————
Watercolour for beginners classes with Gail Knight
Local artist Gail Knight is starting her new beginners watercolour. This is a 6 week course aimed at beginners, no previous knowledge required as guidance and tuition will be provided. Wednesday mornings 10-12 for 6 weeks. £60 for the 6 week course. Starts Wednesday 20th October 2021
Learn about the properties of watercolour paints and develop the confidence needed to paint on your own.  Learn how to paint abstract flowers and landscapes in a loose, experimental way. Have the chance to experiment with masking fluid, salt and cling film to create special effects.
Please contact Gail direct for more details and booking information. contact details are on the information poster shown here
————————————————
Tiffany Style Stained Glass Workshops
Dates – 19th March, 28th May and 25th September   Time- 10am – 4pm
An inspiring workshop learning how to cut, foil and solder glass into a beautiful art pieces, all materials and refreshments included
The copper foil method, also called the Tiffany Method, of stained glass construction involves wrapping the edges of each piece in your project with a copper foil tape. The pieces are then joined by soldering them together on both front and back which creates a metal framework that holds the glass pieces together.
This one day course aims to equip you with the skills, tools and glass to create between 1 and 2 stained glass sun catchers, using the copper foil technique.  We start the workshop with a description of the basic tools used to score and cut glass and a short demonstration on how to break glass safely. You will then be given the opportunity to practice your cutting skills on some standard 'float' glass.  Once you feel comfortable you will choose a design from the many templates available. You will cut and prepare some pieces of coloured art glass, ready to build into your first design. You will then learn how to grind the edges of each piece of your glass ready for foiling. You will be shown how to foil the pieces of glass.  After a break for lunch we will carry on and learn how to solder all our pieces of glass together. If there is time a second sun catcher can be made. And all pieces made will be yours to take home and keep.
To ensure the quality of your personal experience, group size will be limited to 6.
Health and safety notice – No sandals, flip flops or opened toed shoes to be worn.
Tickets can be purchased from Eventbrite the links are below:
————————————————
COVID SAFE at Long Eaton Art Room
The studio will have been thoroughly cleaned before each workshop with high contact surfaces cleaned regularly.
The number of students has been lowered to enable everyone to have a large working area with plenty of social distance.
At each table/work station there will be a set of basic materials/tools needed i.e. scissors, needles etc. These will have been sanitised before the start of the session.
We ask that if we gather as a group to listen & watch demonstrations everyone will wear a face mask or visor (provided if needed) these will not be necessary while at your own workstation.
Any shared equipment for instance sewing machines, heat guns etc will be wiped between use.
There will be facilities for making hot drinks but in the current climate if possible please bring your own refreshments or drinking vessels.
There will be plenty of soap and sanitiser gel dotted around the studio.
There are cleaning wipes in the toilets, please do not flush those, use the bins provided.
Although we endeavour to ensure your safety, the decision & risk to attend a workshop is left with the participant.
All bookings are subject to our workshop booking terms and conditions:
WORKSHOP BOOKING TERMS & CONDITIONS
· All workshops require full payment in advance to confirm your place.
· Booking Terms
In the event of a cancellation payments are non refundable, in exceptional circumstances credit may be given to be used for future workshops.
In the unlikely event we have to cancel or postpone a workshop due to unavoidable circumstances or if we are unable to meet the minimum number of participants needed to run the workshop, we will endeavour to give our guests as much notice as possible. We will happily refund the full booking fee or transfer your booking to another workshop of the same price, space permitting. However, we cannot accept responsibility for any other costs, expenses or disappointment.
· Items made at our workshops are intended for personal use only and not for commercial use.
Long Eaton Art Room take all reasonable precautions to ensure the Health & Safety of its customers. It is important that students and other visitors are aware of others and their safety. Long Eaton Art Room cannot be held responsible for injury, loss or damage to you or your personal possessions. Vehicles are parked at owners risk. Long Eaton Art Room cannot be held liable for any accident or injury incurred whilst visiting the premises.