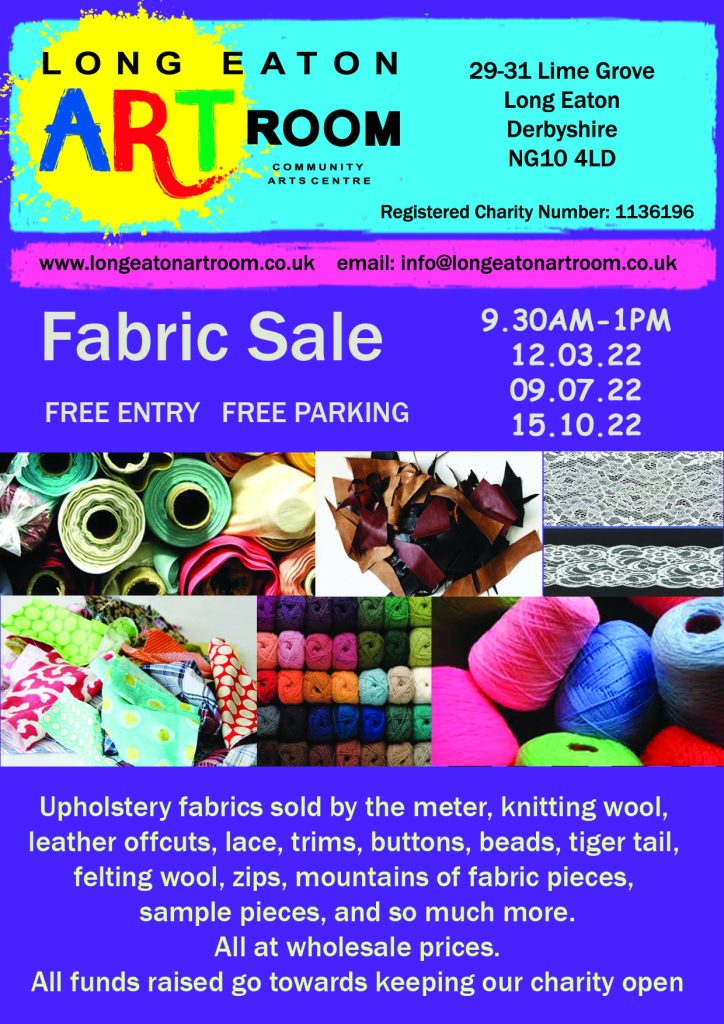 Fabric Sales 2022
Saturday 12 March 2022 9.30am-1pm
Saturday 9 July 2022 9.30am-1pm
Saturday 15 October 2022 9.30am-1pm
We are selling off some of our stocks of fabric to help fundraise towards building renovations.
We have lots of amazing quality stock including: real leather off-cuts, upholstery fabric roll ends, hundreds of fabric samples and off cuts, lace, lace trims, wool on cones and in balls, buttons, beads, tiger tail, merino wool and so much more
All at bargain wholesale prices.
Entry free for all, come and bag a bargain.
Free parking
CASH PREFERRED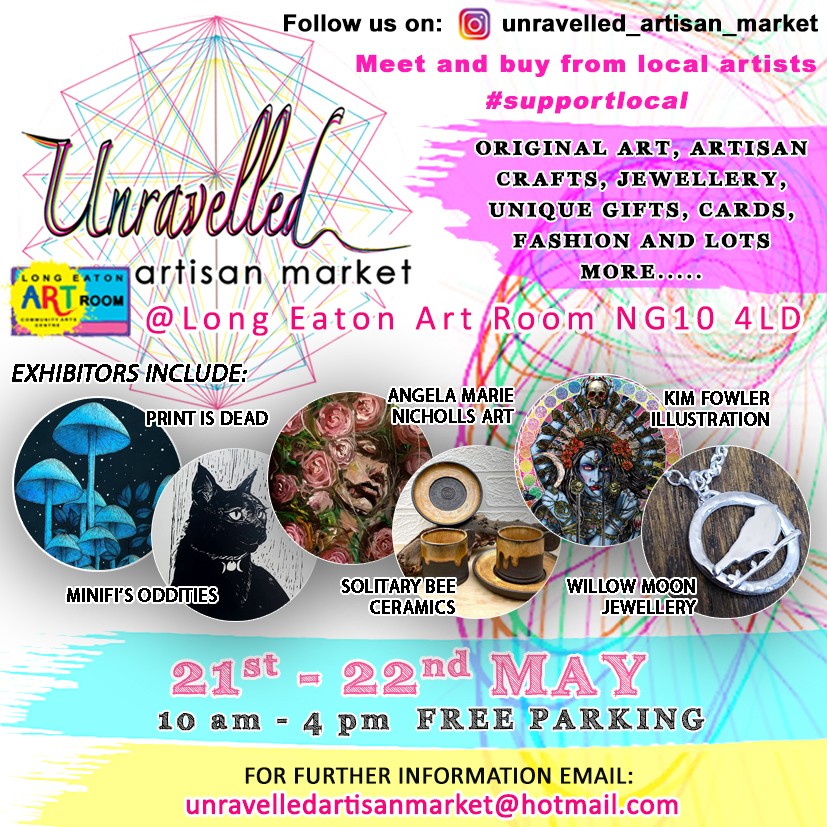 Unravelled Market
21 & 22 May 2022 10-4 each day
The artists studio spaces are taking over the lace factory for the weekend.
Enjoy a socially distanced, indoor-outdoor market with a few of the local artists and makers, who work at the Long Eaton Art Rooms as well as some visiting artists. A mixture of creative minds coming together to create the Unravelled market, a carefully curated event showcasing local artists and designer makers. The perfect way to shop local.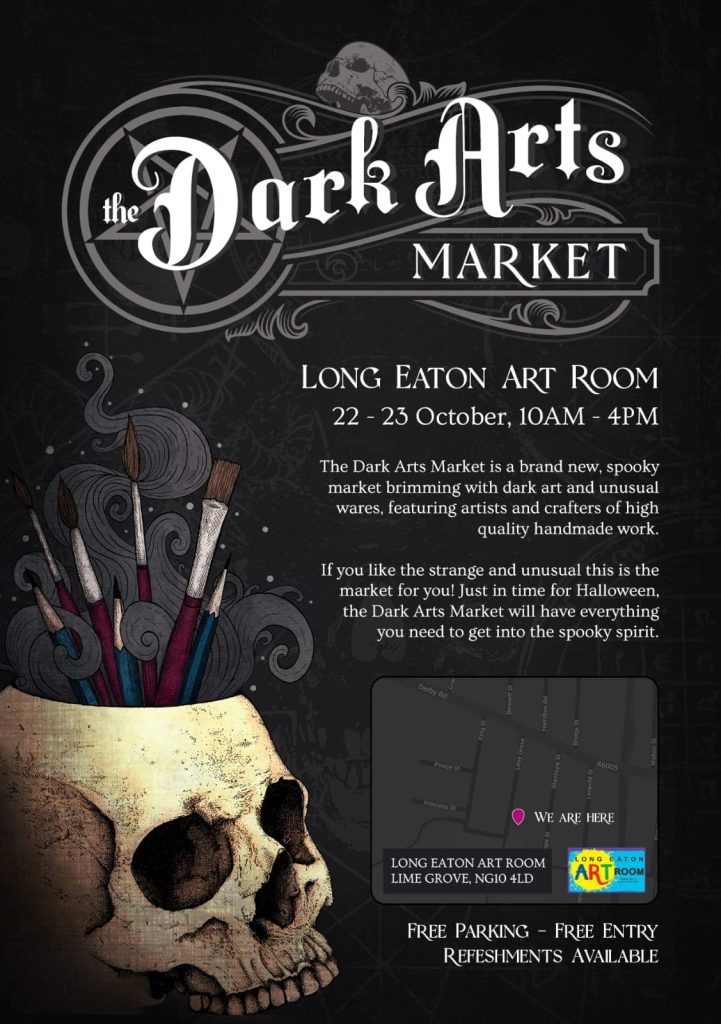 Dark Arts Market
22 & 23 October 2022 10-4 each day
An arts market celebrating the darker things in life. A collection of makers. Pagan, Viking, fantasy… This carefully curated market is run by Fiona of Minifi's Oddities, Elyssa of print is dead and Kim of Kim Fowler Illustration. Held here at Long Eaton Art Room in our former Lace Factory. This looks set to be a great market of all things dark and peculiar. We are very excited about this event and its just intime for Halloween too.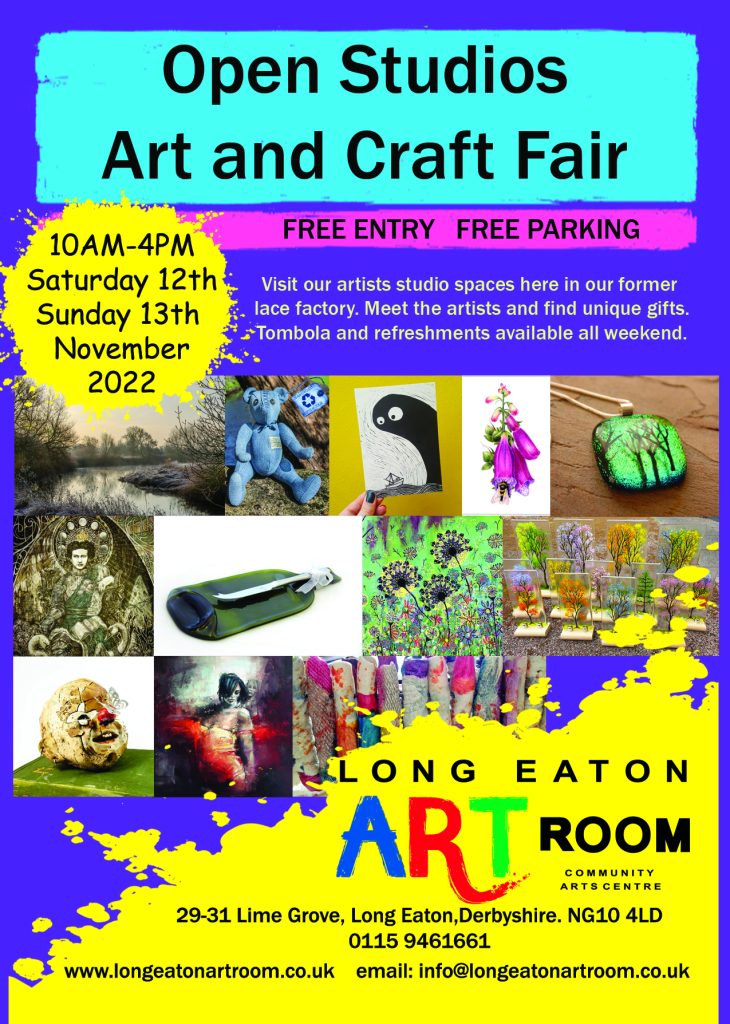 Open Studios Art and Craft Fair Event
Saturday 12 & Sunday 13 November 2022 10am-4pm
Our resident artists here at Long Eaton Art Room will be opening up their studio spaces. This is an the perfect time to see what they make in their studios with the opportunity to buy unique one off pieces of art direct from them. We will have a wide range of stalls over in our former lace factory too. The atmosphere is always lovely, please do visit us. entry is free and we have a free carpark and plenty of on street parking outside too.
We have a wide range of makers:
Purple Orchid Crafts – glass fused jewellery and home decor
Johanne Danielle – mixed media paintings
Mary Graham (wire and ceramic jewellery)
David William Sampson – Ceramics
Jamie Parks – ceramic jewellery
Jacob Seagrave – mixed media artist
Minifi – lino cut prints and unique gifts
Kim Fowler- illustrator
RS Photography- product photography
Lucy Jay Designs – Paper cuts and Miniatures
Victoria Denham – Sustainable Fashion
Ronnie Lawson Photography – Pawsona Pet Portraits
Helen Joyce – Abstract paintings
Angela – Oil paintings
Lindsey – Little Wonders Emporium
Ray Gumbley – Fine art Photography
Meinir Efans-Pointer – decorative glass
Long Eaton Art Room – craft kits
Refreshments by Glutopia
Tombola